There are a few things that you'll need to think about if you're planning on traveling any sort of distance to get to your next music festival. One of the biggest things that you'll want to take into consideration is your lodging accommodations.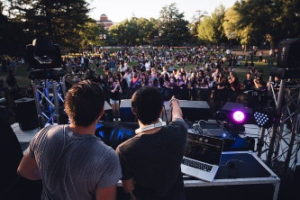 One of the cool things about many festivals is that they offer camping. Sometimes this is built into the cost of a multi-day ticket, but other times you will need to pay extra in order to be able to camp. Know what your particular festival's rules are in this regard, and make sure that you follow them. This will alleviate potential problems. It's also good to know what the policies are regarding food, cooking, and alcohol. Usually, these things are really easy to find, either posted at the festival's website or through a quick call to the festival organizer's office.
Hotel Tips
If you won't be camping at the festival campground, then you'll most likely be staying at a hotel. This can easily lead to a pricey trip, but you don't have to spend too much when you book your hotel room. Here are a few tips that you can use for your next festival—or the next time you're traveling anywhere else, too.
For one, booking a room directly through the hotel can be a good way to get a deal. A lot of hotels have 800 numbers or use different websites to promote their services, but most of the time it's best to go directly through the hotel themselves. Call their front desk and see what's available that way. This will cut out the fees that hotels pay to promote themselves and help you purchase right from the source.
Along the same lines, using any loyalty rewards that you've accumulated can help lower costs. If you're a frequent traveler and have never signed up for a rewards program, then you're missing out on some great deals. If there's a particular chain that you enjoy more than another, then be sure to check out what they have to offer. Over time, these rewards will add up. Cashing in on a free room every once in a while is a great way to reduce costs, especially if you're doing something else that can be costly, such as going to a music festival.
Finally, don't forget about the food! Some hotels offer free breakfasts, but not all. Food is a must when you're traveling, but hotel food tends to be overpriced and not that good. Of course, there are exceptions to this, but unless you're familiar with the hotel itself, you're not going to know this ahead of time.
Book Early
Bigger festivals require more space for lodging. That means that local hotels are less likely to have space available than normal. Prices might even go up because of the anticipated demand. These are both factors that should encourage you to book a room as early as possible if a hotel stay is going to be necessary. Otherwise, you might find yourself with tickets to the show, but no place to stay and get some rest. A situation like this will definitely take away from the overall experience, turning something that should have been amazing into a big hassle. And nine times out of ten, it's completely avoidable.
Traveling to a music festival can be a ton of fun, but not if you're unprepared. Planning things out can seem like a drag, but if it's going to help you to have more fun while you're out, then it's worth it. Hopefully, these few tips can make that planning process a little bit easier for you.